Jesus becomes human as the incarnation of the creator God of Israel, to share His love and the gift of eternal life with the world.
ABOUT JOHN
Throughout the Gospel of John, we see that Jesus is God and the reality toward which all of Israel's history points. Not only is He the Messiah, but He's also the Son of God who gives eternal life to everyone who believes on His name.
We see this reality through the signs and miracles He performs, and seven times He answers "I Am" when people question His identity.
He also uses His time on earth to introduce people to the new birth. By believing that He is the Messiah and God's son, they have eternal life and freedom from sin and are empowered to perform radical acts of kindness, generosity and selfless love as they listen to His voice and obey Him.
*The Bible Project, thebibleproject.com*
____________________
CHAPTER ONE |
1/20/19
• Monday | Verses 1-10
• Tuesday | Verses 11-21
• Wednesday | Verses 22-32
• Thursday | Verses 33-43
• Friday | Verses 44-51
CHAPTER TWO |
1/27/19
• Monday | Verses 1-5
• Tuesday | Verses 6-11
• Wednesday | Verses 12-17
• Thursday | Verses 18-23
• Friday | Verses 24-25
CHAPTER THREE |
2/3/19
• Monday | Verses 1-7
• Tuesday | Verses 8-15
• Wednesday | Verses 16-23
• Thursday | Verses 24-31
• Friday | Verses 32-36
CHAPTER FOUR |
2/10/19
• Monday | Verses 1-10
• Tuesday | Verses 11-21
• Wednesday | Verses 22-32
• Thursday | Verses 33-44
• Friday | Verses 45-54
CHAPTER FIVE |
2/17/19
• Monday | Verses 1-9
• Tuesday | Verses 10-19
• Wednesday | Verses 20-29
• Thursday | Verses 30-39
• Friday | Verses 40-47
CHAPTER SIX |
2/24/19
• Monday | Verses 1-14
• Tuesday | Verses 15-28
• Wednesday | Verses 29-42
• Thursday | Verses 43-56
• Friday | Verses 57-71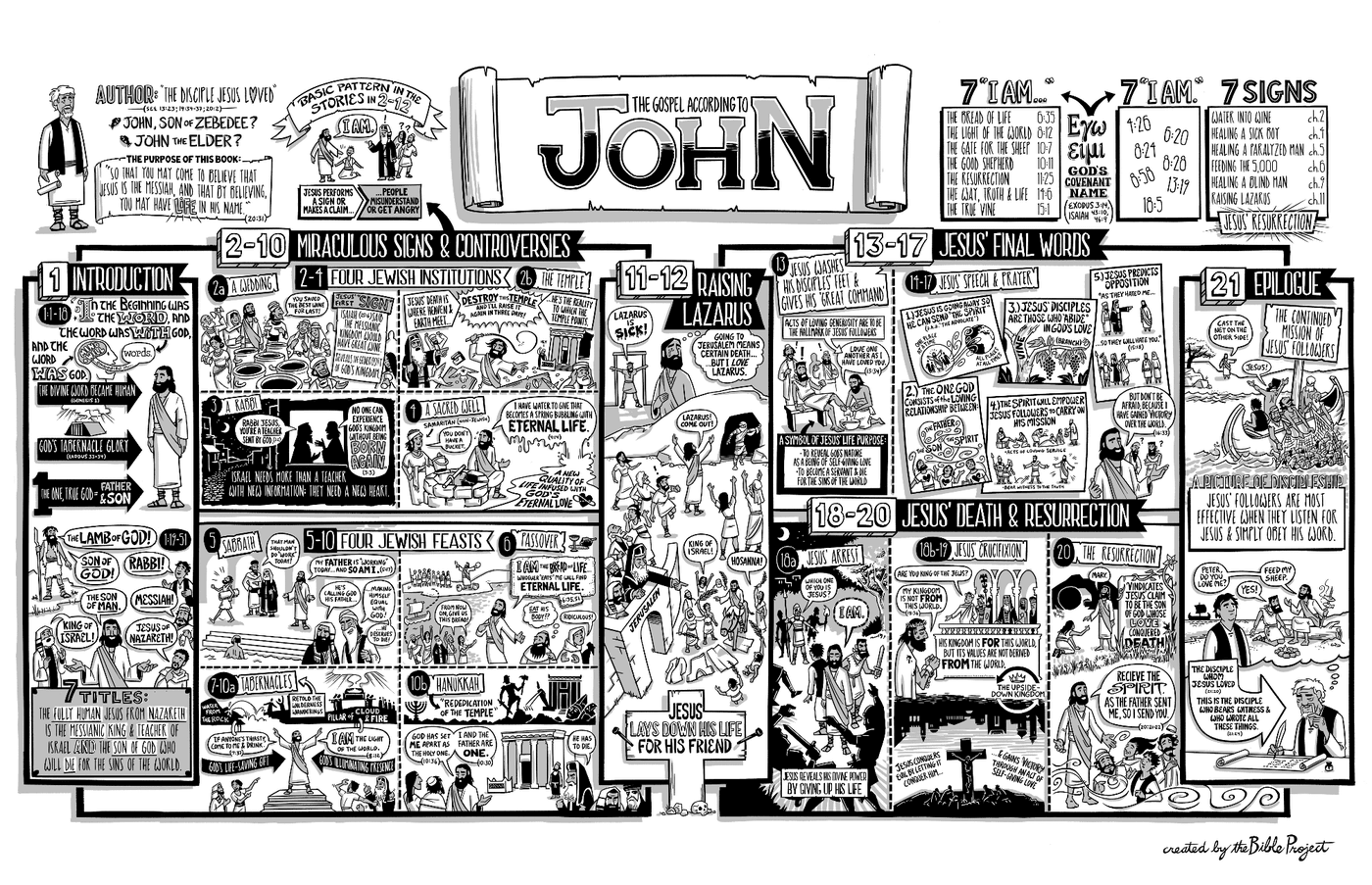 CHAPTER SEVEN |
3/3/19
• Monday | Verses 1-10
• Tuesday | Verses 11-21
• Wednesday | Verses 22-32
• Thursday | Verses 33-44
• Friday | Verses 45-53
CHAPTER EIGHT |
3/10/19
• Monday | Verses 1-11
• Tuesday | Verses 12-23
• Wednesday | Verses 24-35
• Thursday | Verses 35-46
• Friday | Verses 47-59
CHAPTER NINE |
3/17/19
• Monday | Verses 1-8
• Tuesday | Verses 9-17
• Wednesday | Verses 18-26
• Thursday | Verses 27-35
• Friday | Verses 36-41
CHAPTER TEN |
3/24/19
• Monday | Verses 1-8
• Tuesday | Verses 9-17
• Wednesday | Verses 18-26
• Thursday | Verses 27-35
• Friday | Verses 36-42
CHAPTER ELEVEN |
3/31/19
• Monday | Verses 1-11
• Tuesday | Verses 12-23
• Wednesday | Verses 24-35
• Thursday | Verses 36-45
• Friday | Verses 46-57
CHAPTER TWELVE |
4/7/19
• Monday | Verses 1-10
• Tuesday | Verses 11-21
• Wednesday | Verses 22-32
• Thursday | Verses 33-43
• Friday | Verses 44-50
Chapter 13 to 21 Coming Soon